iTero - Digital Experience with Dentistry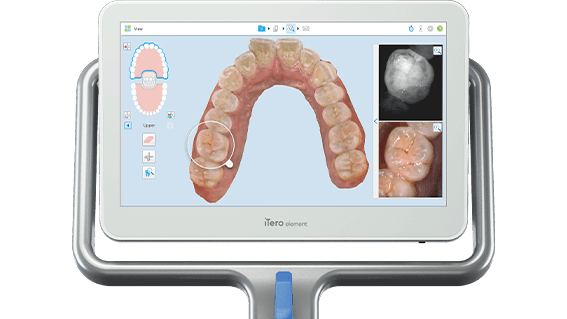 Dental technology has come a long way in the last few decades, and one of the most exciting recent innovations is the iTero 3D scanner. This state-of-the-art device is changing the way our dentists at Martin Dentistry approach diagnosis and treatment planning, and patients are reaping the benefits in terms of improved accuracy, comfort, and convenience.
What is the iTero 3D Scanner?
The iTero 3D scanner is a digital imaging device used in dentistry to capture detailed, high-resolution 3D images of a patient's teeth, gums, and surrounding oral structures. The scanner uses advanced imaging technology to create a virtual model of the patient's mouth, which can be used to plan treatments, create orthodontic appliances, and more.
How does it work?
The iTero 3D scanner is a handheld device that is placed in the patient's mouth, where it captures thousands of images per second using a small wand. These images are combined in real-time to create a highly accurate, detailed 3D model of the patient's oral structures. The entire process takes just a few minutes and is completely painless.
What are the advantages of using the iTero 3D scanner?
There are many advantages to using the iTero 3D scanner over traditional dental imaging methods. Here are just a few:
Improved accuracy: The iTero 3D scanner captures highly detailed images that are much more accurate than traditional dental impressions. This means that treatment planning and appliance fabrication are much more precise, which can result in better outcomes and fewer complications.
Increased comfort: Traditional dental impressions can be uncomfortable and even painful for some patients, especially those with a strong gag reflex. The iTero 3D scanner eliminates the need for messy impression materials and is much more comfortable for patients.
Faster treatment times: Because the iTero 3D scanner creates a virtual model of the patient's mouth, treatment planning and appliance fabrication can be done much more quickly than with traditional methods. This means that patients can start their treatments sooner and complete them faster.
Better patient communication: With the iTero 3D scanner, dentists can show patients highly detailed, 3D images of their oral structures. This can help patients better understand their conditions and treatment options, leading to more informed decisions and better outcomes.
Versatility: The iTero 3D scanner can be used for a wide range of dental procedures, including restorative dentistry, orthodontics, and implant dentistry.
In conclusion, the iTero 3D scanner is a game-changer in the world of dentistry. Its advanced imaging technology, increased accuracy, and improved patient comfort make it a valuable tool for dental professionals and patients alike. If you're interested in learning more about how the iTero 3D scanner can improve your dental experience, call Martin Dentistry today. We have two convenient locations in Fishers, IN and Indianapolis, IN.